Gibraltar's new bus service - April 2004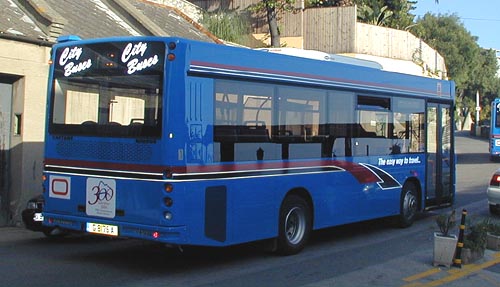 Gibraltar's new bus service started operation on Saturday 10th April. The service will be provided by the Gibraltar Bus Company Limited (a wholly owned Government company) which has purchased the licences and vehicles of Rock City Services Limited.
This venture represents a major investment by the Government in public transport services and in the environment. The aim is to provide a service that will be safe, comfortable, regular and reliable.
The service will be provided by a fleet of 18 brand new vehicles which are the most modern concept in public urban transport buses. Two new smaller mini buses will service the upper town area. One of the objectives is to encourage further use of public transport and thus reduce the unnecessary use of private motorvehicles. This, in turn, will lead to a better environment and less traffic congestion.
This investment forms a key part in the Government's integrated transport policy which includes: pedestranisation programmes; the provision of free parking facilities around the City walls as well as purpose built parking facilities in residential areas; and, of course, this modern, clean and reliable bus service.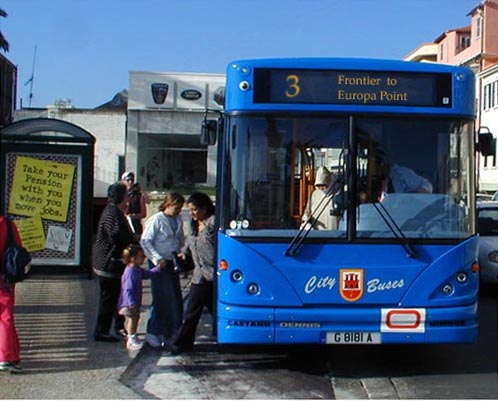 To attract greater useage of the bus service, route frequencies are being greatly increased and buses will run to the published routes, times and frequency.
For the first time Gibraltar will have a bus service that can be used by the disabled and by parents with prams and buggies and by shoppers.
The main fleet consists of 18 New Dennis – Caetano Nimbus buses. These buses are air conditioned and heated. Their low floor allows easy access for the elderly, parents with prams and young children and the disabled. In addition the buses are equipped with electrically operated ramps at the door to allow wheelchair and push chair access onto the vehicle. They are specifically designed for operating on roads with sharp bends in built up areas.
The buses are environmentally friendly. Emissions are well within EU requirements. Gone will be the days of smoky bus exhausts along Europa Road and elsewhere.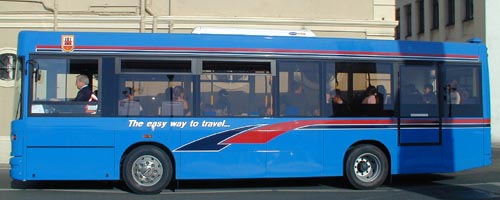 Initially the service will operate on route numbers 2 (Upper Town) 3, 4 and 9. The route frequencies are being greatly improved to encourage greater use of the bus service.

The Upper Town Service will operate as a shuttle service, and will be provided in smaller vehicles to ensure that the buses will be able to enter the Moorish Castle Estate and get to the top of Willis' Road, for the comfort and convenience of passengers, especially the elderly.

Routes 3 and 4 will operate at 20 (instead of the current 45) minute intervals. Route 9 to the frontier from Fish Market Place will operate every 10 minutes. A full time table will be published.

Over a period of time the Company hopes to modify and develop the routes so that they better reflect the needs of today's Gibraltar.

<