G

ibraltar has operated an identity card system since 1943. The cards issued were originally folded cardboard, similar to the wartime UK Identity cards abolished in 1950. There were different colours for British and non-British residents.

When the EU introduced its common format requirements for ID cards, Gibraltar modified its own existing ID cards to bring them into line with EU requirements, replacing the old cards with a modern laminated card with security features. On 15 May 1995, the United Kingdom Government informed the Commission and the other Member States that Gibraltarís identity card was to be considered as valid under the terms of Directives related to the right to travel and to reside of workers, self-employed persons, tourists, retired persons, economically inactive persons and students.

In accordance with the Gibraltar Civilians Registration (Amendment) Ordinance 1993, the only two categories of persons eligible to hold Gibraltar identity cards valid for travel in the EU/EEA under the terms of the United Kingdom notification of 1995 are British Dependent Territories Citizens by virtue of a connection with Gibraltar and British citizens resident in Gibraltar. All British Dependent Territories Citizens by Virtue of a connection with Gibraltar are considered United Kingdom nationals for all European Community purposes pursuant to Council Declaration of 1983. The Commission has accepted the Gibraltar Identity Card as a document valid both for travel and residence purposes under the terms of EU Law.

Although these cards were accepted by the United Kingdom and Sweden, Spain refused to honour them, which caused problems at the frontier. Despite their official validity, customs at the point of entry were not familiar with British Citizens holding ID cards and there were problems with acceptance.

In April 2000 an agreement was reached whereby with some minor changes in the format of the card, Spain would accept Gibraltar ID card. However ONLY the pink cards issued are valid internationally. Blue ones held by British and other EU nationals living in Gibraltar and cards issued to non-EU nationals are not valid for travel purposes.

The Gibraltar ID card is a minimal solution and is of practical benefit to its users. The card is issued free of charge, with a five pound charge for a replacement if lost.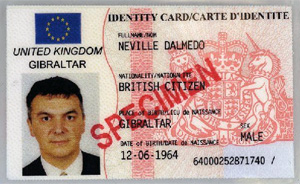 Despite having sophisticated security features, because the format is a laminated card, and it is not familiar to the UK borders agency and others, sometimes there has been confusion on its validity.

Similarly Gibraltar students have had trouble using it for 'proof of age' in the UK despite it being an official Government document.

In Gibraltar the card is well known and accepted as proof of identity. All Gibraltar residents are required to hold an ID card, but there is no requirement to carry it. Pink cards are issued to Gibraltarians and permenant residents of Gibraltar. Blue cards to other EU nationals, and yellow cards to non-EU nationals. Only the pink cards are valid as a travel document.


In contrast, the British national identity card introduced under the Identity Cards Act 2006, is another thing altogether. This multi-billion pound scheme has yet to enter procurement. The cards will have a lesser role than the database they are linked to, which will be known as the National Identity Register (NIR).

The Act specifies fifty categories of information that the NIR can hold on each citizen, including up to 10 fingerprints, digitised facial scan and iris scan, current and past UK and overseas places of residence of all residents of the UK throughout their lives and indexes to other Government databases - which would allow them to be connected. The legislation also says that any further information can be added.

Critics of the scheme say it isn't just about identity cards. The UK government's identity scheme is really a huge database to keep tabs on everyone, with a massive infrastructure to collect peoples' details, and a giant network of technology required to verify people against their cards and both of these against the database.

The card is just the tip of the iceberg and estimated cost for a passport and ID card of 77 Pounds, however the true cost every taxpayer at least 200 Pounds. All that is based on current estimates of the cost, and most government IT projects go over budget.

The legislation further says that those renewing or applying for passports must be entered on to the NIR. It is expected that this will happen soon after the UK Passport Service, which has now been renamed the Identity and Passport Service (IPS), start interviewing passport applicants to verify their identity. Concern about the scheme have been expressed by human rights lawyers, activists, security professionals, IT experts and both the opposition Conservative Party, and the LibDems.

March 12, 2007 In an effort to recoup some of the estimated GBP 540 million a year it will cost to run the UK's government ID database, Members of Parliament (MPs) want to charge companies to verify information with the database. Businesses would require citizens' consent to access their information in the database. Citizens have already expressed displeasure with the fact they have to pay GBP 93 for the cards, which hold 49 separate pieces of personal data. MPs want to charge businesses 60p for each ID check. The companies would submit data to the system and be given a "yes" or "no" answer for verification purposes.

December 22nd, 2010 UK issued identity cards are to be officially abolished, after peers finally withdrew their demand that the 12,000 people who paid £30 for them should be allowed to claim their money back. The coalition's Identity Documents Bill, which repeals the previous Labour administration's Identity Cards Act 2006, gained Royal Assent to become law last night before the Commons rose for the Christmas recess.

January 21st, 2011 Under the terms of the Act UK issued identity cards ceased to be legal documents. The National Identity Register will be destroyed by 21 February 2011.

Gibraltar issued ID cards remain valid

New Gibraltar cards issued

May 12th, 2015 Her Majestyís Government of Gibraltar announced the launch of the new Gibraltar Electronic Identity Card. This new e-ID Card is validated as a travel document which will be recognised at points of entry throughout the EEA, eliminating problems previously experienced by some carriers of the current Gibraltar ID cards at certain points of entry within EU Member States.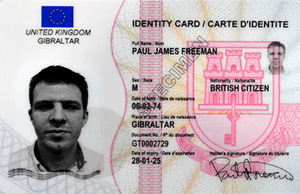 Announcing the card the Government said "With its many enhanced security features, the e-ID Card will form the backbone of HM Governmentís e-Gov initiative and, once the e-ID Card has been widely issued, holders will have the security to access the many e-Gov services which are being planned.

For example, in the near future, the new card provide the necessary security to enable card-holders to complete their tax returns on line. The first e-ID cards will be issued at the end of June."

As with the previous issue, pink cards are issued to Gibraltarians and permenant residents of Gibraltar. EU nationals ordinarily resident receive blue cards and non EU nationals yellow ones. Only the pink cards are valid as a travel document.

The card contains a RFID chip.